Main content starts here, tab to start navigating
FEBRUARY HAPPENINGS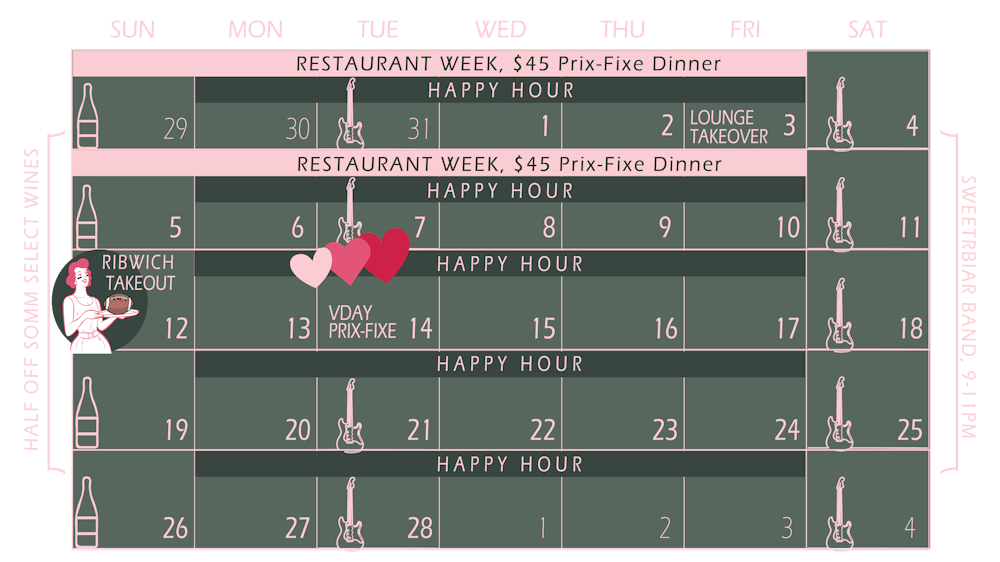 RIBWICH RETURNS FOR GAMEDAY
SUPER BOWL SUNDAY
TAKEOUT / DELIVERY
Sweetbriar Executive Chef Bryce Shuman's Ribwich makes a return for Super Bowl Sunday. This time a portion of each sandwich sold will help feed New Yorker's who are experiencing food insecurity.

The menu features the Ribwich, a deboned rack of Duroc pork ribs, slathered in BBQ sauce, deep fried until golden brown and served on a potato bun. Also on the menu are the Chickwich, 'Shroomwich, Fries, S'mores Ice Cream Cones and RTD Makers Mark Old Fashioneds.
Pre-order Takeout / Delivery
VALENTINE'S DAY
Chef Bryce Shuman delivers a refreshing 5-course menu for Valentine's Day featuring Kumamoto Oyster with Togarashi Mignonette, Ricotta Ravioli with Green Garlic and Peas, and Heart on Fire for dessert.
Book Now
THE SWEETBRIAR BAND
Live Tuesdays at 6:00pm and Saturdays at 9:00pm
SOMM SUNDAYS
Half Off Somm Selections Every Sunday
HAPPY HOUR
Monday-Friday, 5-7PM